Melania Trump Sends Hundreds Of Packages To Hospitals – "A Small Token Of My Appreciation For Their Courage"
During a crisis, we all want our leaders to step up.
And though First Lady Melania Trump isn't technically a politician, I would argue that she is certainly a leader.
She continues to display her kindness and generosity during these trying times. And every American – especially every American on the front lines – should appreciate it.
Last week, Mrs. Trump sent care packages to children and staff at hospitals in 10 states and Washington D.C.
She called them simply "a small token of appreciation of their courage and leadership in this time." It was a truly sweet gesture!
But Melania didn't stop there.
Just recently, she decided to send another round of care packages … and these will feed some of our most important citizens!
Via Fox News:
First lady Melania Trump donated 150 boxed lunches this week to patients and staff at a Maryland children's hospital amid the coronavirus pandemic, a White House official said.
Now THAT is something a leader does!
A leader helps and inspires, and encourages those most strained by a difficult situation. And that's precisely what FLOTUS has done here.
Added Melania's spokeswoman and former White House press secretary Stephanie Grisham:
Supporting those impacted by the effects of COVID-19 is something the First Lady cares deeply about, and as we navigate these unique times she will continue to reach out to people in a variety of ways.
Melania also made sure to adhere to social distancing guidelines: the food was brought via "contact-less" delivery.
Throughout the epidemic, our First Lady has been her usual gracious, caring, helpful self.
For example, consider this excellent "thank you" she posted on Twitter a few weeks ago: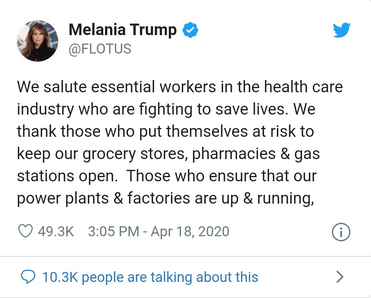 We salute essential workers in the health care industry who are fighting to save lives.

We thank those who put themselves at risk to keep our grocery stores, pharmacies & gas stations open.

Those who ensure that our power plants & factories are up & running, that we have internet & phones to stay in touch.
We can compare Melania to past First Ladies until we're blue in the face. It's a subjective argument in many ways.
But one thing is certain– Mrs. Trump has always been a paragon of virtue throughout these past tumultuous years.
And she hasn't wavered. Not once. That's MY First Lady!
SHARE Melania Trump's latest examples of kindness! It'll make a fellow patriot's day!
Source: Fox News