Trudeau New Plan for Truckers Revealed
Biden Administration Sued By Eight States Over Reinstatement of Obama Program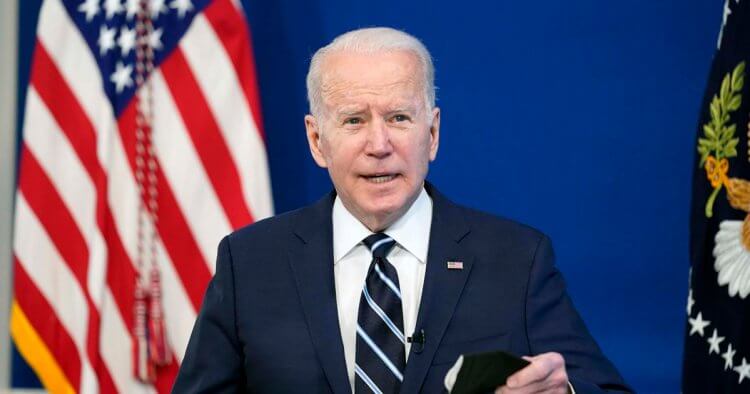 President Joe Biden has found himself in more legal trouble as eight states are suing his administration over its use of an Obama-era border policy.
The lawsuit centers around the reinstatement of the Central American Minors Refugee and Parole Program, otherwise known as CAM, which was repealed by former President Donald Trump, and which allows certain minors from Honduras, El Salvador, and Guatemala to come into the United States and be put on an immediate path to citizenship, Newsweek reported.
"The Biden Administration has sown nothing but disaster for our country through its illegal, unconstitutional immigration policies," Texas Attorney General Ken Paxton said. "Biden's latest round of flagrant law-breaking includes his Central American Minors Program, which has contributed significantly to many states being forced to take in even more aliens. My fellow attorneys general and I are suing to stop it."
The lawsuit says that "Illegal aliens do not have the right under federal law to petition the federal government for their relatives abroad to join them in residing in the United States. There are no lawful paths for aliens who lack status to come join other aliens who lack status in the United States," and continues, "But the Biden Administration has created such a program for certain illegal aliens who are from El Salvador, Guatemala, or Honduras (the region known as the Northern Triangle) and who reside in the United States, so long as they meet certain arbitrary qualifications created by the Administration. In short, if an illegal alien from one of those three countries is inside the United States and has so much as a pending application for asylum, they can petition the United States Government to bring their minor children into the United States—despite no explicit authority from Congress to do so. And not just the illegal alien's minor children, but also the in-country parent of a qualifying child, a legal guardian, or a child's primary caregiver."
But Texas is not the only state whose attorney general criticized the reinstatement of the program.
"After seeing the chaos in person, it is even more clear to me now that Biden and Mayorkas are building their own illegal organization to transport illegal immigrants into and around our country – thumbing their noses at federal laws," Florida Attorney General Ashley Moody said. "I will not only work aggressively to stop these illegal acts, but I will continue to inform Floridians about what their federal government is actually doing, and the dangers associated with those decisions."
"The Biden Administration has failed the American people by its failure to secure the border. In the first year of the Biden Administration, unlawful border crossings have increased over 140% resulting in the influx of illicit drugs such as fentanyl, methamphetamine and cocaine which Arkansas officers have seized. As Attorney General, I will stand strong with officials from across the country to defend the rule of law to protect our communities," Arkansas Attorney General Leslie Rutledge said.
Indiana Attorney General Todd Rokita said that "we welcome migrants to the United States who are grateful to be here and want to restart their lives under the values this country was founded upon. The first way they can show that is by following our laws. Those who do not should not be allowed to stay."
"The Biden Administration's lack of leadership on illegal immigration is directly impacting our nation," Oklahoma Attorney General John O'Connor argued. "The CAM program was created without considering its impact on Oklahoma, Texas and the continuing crisis at the southern border. It's time to fix the problem President Biden created."
"The crisis at the border continues to grow every day, and as human traffickers and drug cartels take advantage of the Biden Administration's weak border policies, every state is now a border state – this porous border affects all of us. That's why today I filed a lawsuit against the Biden Administration to halt the unlawful reimplementation of the ineffective Central American Minors Refugee and Parole Program," Missouri Attorney General Schmitt said. Despite the implementation of this policy under the Obama Administration, minor apprehensions continued to rise. President Trump was right to cancel this program, and the Biden Administration exceeded its statutory authority in reimplementing the program. My Office has been a national leader in taking concrete action to secure the border. I've taken the Biden Administration to court and won following their cancellation of the 'Remain in Mexico' policy, and I intend to win in court again."
Scroll down to leave a comment and share your thoughts.