RED ALERT: Army Of 170,000 Illegal Aliens Waiting For Biden's Orders To STORM Southern Border Into AMERICA [VIDEO]
While the Communist controlled media otherwise known as the mainstream media such as CNN, MSNBC and others are focused on the Russians invading Ukraine's border the coverage of the crisis at our own southern border has all but disappeared.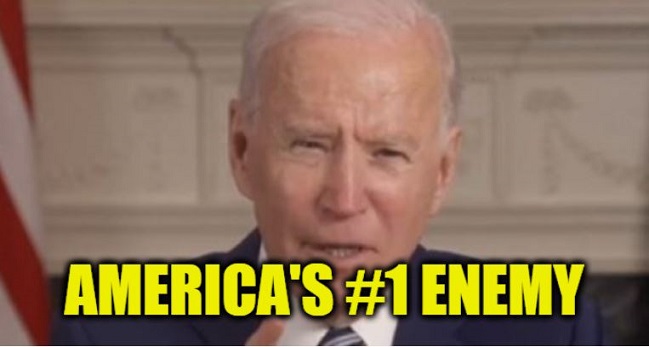 President Trump realized the importance of having a strong physical barrier at the Mexico/USA border and was building the wall which was equipped with state of the art equipment designed to keep intruders out of our country.
Now thanks to Biden and the radical leftist idiots we have a border that is literally unprotected from attacks and invasions.
Millions of people including terrorists and spies have crossed that border thanks to the DEMENTED a-hole undoing all of President Trump's border strategies.
This is a major security threat as well as an extreme hardship on the American taxpayer.ADVERTISEMENT – STORY CONTINUES BELOW
We are wasting BILLIONS of dollars on these illegal aliens by feeding, clothing, housing and flying them all over the country.
They are also given free phones, cash, EBT cards and the list goes on and on.
Biden has also made it extremely easy for our enemies to enter the country and organize potential terror attacks.
It's absolutely INSANE!
From day 1 of Biden's presidency he has done everything imaginable to destroy America.
His strategy was to simply undo EVERYTHING that President Trump had done and the results have been devastating.
Biden has not accomplished one damn thing that has helped America.
Biden and the Democrats whole agenda is to attack Trump and his supporters and also line their pockets with cash by appeasing our enemies.
Oh and climate change… what a joke.
LOOK AT OUR FREAKING COUNTRY! IT'S COMPLETELY OUT OF CONTROL!
Jim Hoft, the founder of The Gateway Pundit has more:
The inflation, the gas prices, the foreign policy, the spending, Ketanji Brown Jackson, the radical America-hating judges, the DC Gulag — It was all meant to take down America.
But the greatest assault on America is waiting on the southern side of the US border in Mexico.
Over 170,000 illegal aliens are waiting, just waiting, for Joe Biden to end President Trump's COVID-era policies that allowed immediate expulsions of illegal aliens during a public health emergency. This massive group of illegals is waiting for Biden to end Trump's COVID policies so they can storm the border. The invasion is days away.
The Department of Homeland Security put out a call for volunteers to assist with the invasion.
Steve Bannon and Ben Berquam discussed this cataclysmic development on The War Room.
WATCH:
Axios reported:
U.S. intelligence officials are privately bracing for a massive influx of more than 170,000 migrants at the Mexico border if COVID-era policies that allow instant expulsions during the public health emergency are ended, sources with direct knowledge of the discussions tell Axios.
–The response under way includes a newly created — and previously unreported — Southwest Border Coordination Center (SBCC), essentially a war room to coordinate an interagency response.
Why it matters: Border officials have used Title 42 more than 1 million times to rapidly expel migrants at the southern border without hearing asylum claims. But the Trump-era order wasn't set up to be permanent, and senior Biden officials are preparing for its end as the virus is brought under control.
-Department of Homeland Security intelligence estimates that perhaps 25,000 migrants already are waiting in Mexican shelters just south of the border for Title 42 to end.
-On Wednesday, DHS Deputy Secretary John Tien asked employees "to consider stepping forward to support the DHS Volunteer Force," citing large numbers of migrants at the southwest border, according to an email seen by Axios. The email seeks general support for U.S. Customs and Border Protection and help with data entry.
UNBELIEVABLE!
That's Biden's plan?
Now, we can put an end to most of Biden's and the democrats garbage by voting them out and electing America loving patriots but the problem is that DEMOCRATS KNOW HOW TO RIG ELECTIONS.
My friends, these are dire times and we have got to take our country back.
#BUILDTHEWALL
#BIDENSUCKS
#MAGA
Let us know what you think in the comments section below the article.
H/T: AMERICAS FREEDOM FIGHTERS