BREAKING News Out Of FLORIDA… THEY GOT THEM BOTH AND WAIT UNTIL YOU SEE WHAT THEY DID!!!
TTOA are determined to do whatever it takes to end this sickening pandemic of child abuse and we believe that bringing as many of these cases to the spotlight it may very well make a difference. We owe it to our innocent children and we will never stop fighting!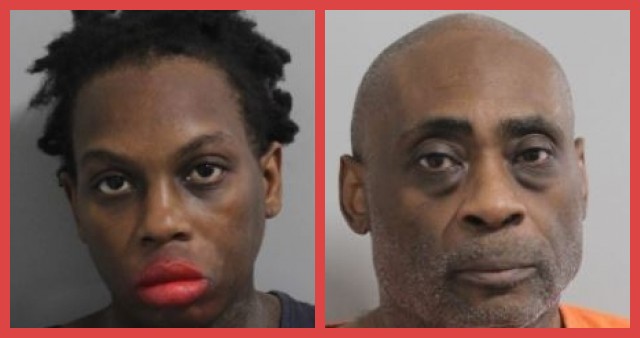 This particular case is extremely disturbing and graphic.
On Wednesday, May 11, 2022, PCSO Homicide detectives arrested 57-year-old Regis Johnson and 35-year-old Arhonda Tillman, both from Davenport, for one count each of Negligent Child Abuse causing Great Harm (F2) resulting in the death of a 34-month-old (2 years 10 months) toddler.
According to the affidavit, on Tuesday, May 10, 2022, deputies and PCFR personnel responded to Johnson's home (6720 US 17/92) in Davenport to an unresponsive child call. The little girl was located deceased in an inflatable pool that was being used as a makeshift playpen.
During interviews, Johnson, the toddler's father, told detectives that when the child was born doctors believed she may share a muscular dystrophy gene with her mother. He also told detectives he took the child to a medical appointment July of 2021 to be tested, but the test came back inconclusive. Johnson further stated the most recent doctor's appointment was August of 2021. According to Johnson, the victim hadn't wanted to eat much for the past two days, and when he tried to feed her she would only take a few bites.
Johnson told detectives that he placed the child in the inflatable pool at around 5:15 a.m. Tuesday morning, and she began playing with her toys. He left for a short time, and when he returned, the victim was "cold to the touch and was not breathing."
Tillman, the victim's mother, told detectives that she attempted to feed the child a turkey sandwich Monday (May 9) night before bed, but the victim did not want to eat. She stated that she didn't know when the child had last seen a doctor, and added that the victim could crawl but not walk.
Detectives contacted the victim's pediatrician. The doctor told detectives the child's last doctor's visit was in January of 2020, which was her 6-month check-up. The medical office attempted to make contact with the parents numerous times following the appointment as there was concern that the child may have Cystic Fibrosis.
During the investigation, detectives learned that on December 10, 2019, the Department of Children and Families (DCF) began a medical neglect investigation which revealed the victim was consistently losing weight and her parents were not following-up with doctor appointments. The DCF report indicated that after the parents complied with DCF instructions and following several positive weight checks, Johnson was instructed to follow-up with the victim's primary care physician, and DCF then closed the investigation.
On May 11th, the District 10 Medical Examiner's Office conducted an autopsy on the victim which determined the victim had no food in her stomach and suffered from long term starvation. She only weighed 9.5 pounds at the time of death.
When detectives again spoke with Johnson following the autopsy, and he admitted the victim's last doctor's appointment was in January 2020 and not August of 2021 as he originally stated. He also told detectives that he knew his daughter was "not gaining weight and not developing as normal." He further said that he "knew the victim was losing weight and was not thriving" and still did not seek medical attention.
This is egregious and should never have occurred. Because of the actions of these parents, this little girl will never have the opportunity to grow up. If parents don't want their child, there are resources like Safe Place locations – fire stations, social service facilities, etc. To learn more about Safe Place go to www.nationalsafeplace.org." – Grady Judd, Sheriff
Both Johnson and Tillman were arrested and transported to the Polk County Jail where they are being held without bond.
###
PCSO
If these 2 scumbags are found guilty then we hope that they rot in hell.
Of course, people are presumed to be innocent until they are found guilty in a court of law unless of course you are a J6 POLITICAL PRISONER in which case they are deemed to be guilty and are treated like animals and are receiving excessive sentences by the Biden GESTAPO.
Rest in peace little angel- this should never have happened to you.
May God bless your young soul.
So sad.
#FJB
AMERICAS FREEDOM FIGHTERS ARE STAUNCH SUPPORTERS OF LAW ENFORCEMENT, BORDER PATROL, ICE, FIRST RESPONDERS, OUR MILITARY AND ALL THE BRAVE MEN AND WOMEN WHO HAVE DEDICATED THEIR LIVES TO KEEPING AMERICA SAFE.
H/T: AMERICAS FREEDOM FIGHTERS