Ted Cruz Claims Trump Still Has A Path To Victory – But America Must Only "Count Every Single Legal Vote That Was Cast"
Though Joe Biden has been declared the 2020 presidential election winner, Donald Trump isn't ready to concede. He plans to contest the incredibly close results in several key states.
Democrats condemn the President's reaction but some Republicans are defending Trump's reaction. In fact, some intend to assist in the upcoming legal battle.
That might include Sen. Ted Cruz (R-TX), who used to be Trump's fiercest opponent in 2016. But now he appears to be very much on Trump's side.
Cruz told "Sunday Morning Features" that he believes POTUS "still has a path to victory," and predicted that Trump's fight could end up in the Supreme Court.
As for the "victory path," Cruz made it clear—he believes states should count (and perhaps recount) every legal vote cast.
That is the key term in the Senator's statement: "legal."
From Fox News:
I believe President Trump still has a path to victory, and that path is to count every single legal vote that was cast, but also not to count any votes that were fraudulently cast or illegally cast, and we have a legal process to determine what's legal and what isn't.
Cruz cited a recently discovered error in one Michigan county, where a few thousand Trump votes were accidentally counted for Biden.
This allegation has yet to be confirmed but Cruz believes it at least warrants investigation:
That same software is used in 47 counties throughout Michigan. That needs to be examined.

It's hard to know what the facts are and hard to know what the truth is. … This case could very easily end up at the U.S. Supreme Court.
The 2020 election will likely go down in history as one of the closest, most hotly contested political races in American history. But it isn't entirely without precedent.
Cruz reminded us of the Bush vs. Gore race (of which he was a part), which required court intervention before the winner could be accurately declared.
The Senator also said it's not up to the media to declare a victor. "That's not how it works," he said. "We need to follow the law, and that means allowing the legal process to play out."
Not all Republicans are totally on board with Trump's battle, however.
For example, Sen. Mitt Romney (R-Utah) said that while the President has the right to request recounts and call for investigations into voting irregularities, he's wrong to say the election was "rigged."
As he posted on Twitter: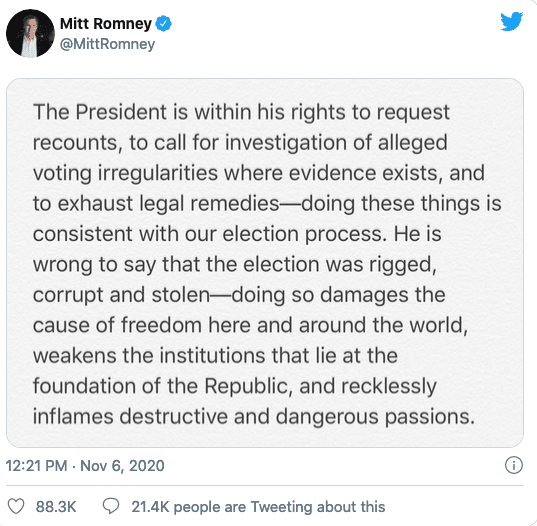 How far Trump's legal battle goes remains to be seen. But Republicans and conservatives around the country have already taken up the rallying cry:
"Count only the legal votes." But maybe it'll be up to the courts to determine which votes are legal, and which aren't (if any).
Key Takeaways:
Sen. Ted Cruz says he still sees "a path to victory" for President Donald Trump.
Cruz believes states should only count "legal votes" and not any that are "fraudulently or illegally cast."
It's possible that Trump's legal battle could go all the way to the Supreme Court.
Source: Fox News