Biden Picks Nominee to Replace John Durham
Biden Picks US Attorney Nominee to Replace John Durham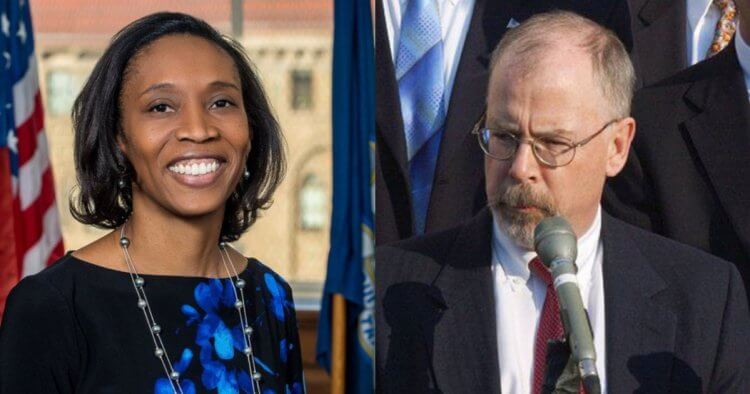 President Joe Biden has selected a nominee to replace John Durham in his former capacity as U.S. attorney for the District of Connecticut as the prosecutor continues his criminal inquiry into the origins of the Trump-Russia investigation.
Vanessa Avery, who has served as chief of the Division of Enforcement and Public Protection at the Connecticut attorney general's office since 2021 and as an assistant attorney general in that office since 2019, was named as Biden's pick, the White House said in a press release. She would be the first black woman to serve in the state's top federal prosecutor role if confirmed by the Senate, according to Fox 61.
Avery was one of six nominees to be U.S. attorneys in states across the country announced Wednesday.
"These individuals were chosen for their devotion to enforcing the law, their professionalism, their experience and credentials in this field, their dedication to pursuing equal justice for all, and their commitment to the independence of the Department of Justice," the White House press release said.
Durham announced his resignation as the U.S. attorney for Connecticut in late February 2021 but remains at the Justice Department as special counsel as he continues to review the origins of the Russia investigation, an endeavor he has led since the spring of 2019. Leonard Boyle began serving as the acting U.S. attorney for the District of Connecticut on March 1, 2021, and as the interim U.S. attorney on Dec. 26, 2021.
Avery served as an assistant U.S. attorney in the U.S. Attorney's Office for the District of Connecticut from 2014 to 2019, and from 2006 to 2014, she was a litigation attorney at McCarter & English, LLP, according to her biography provided by the White House.
Avery served as a trial attorney at the Justice Department's Commercial Litigation Branch of the Civil Division from 2004 to 2005 and an attorney in the Hartford Trial Group at Cummings & Lockwood LLC from 1999 to 2003. She received her J.D. from Georgetown University Law Center in 1999 and her Bachelor of Arts from Yale University in 1996.
This is an excerpt from The Washington Examiner.