BREAKING: 2 J6 "Protestors" Heading To Prison But One Of Them May Be A FED- Here's What We Know
The J6 witch hunt continues.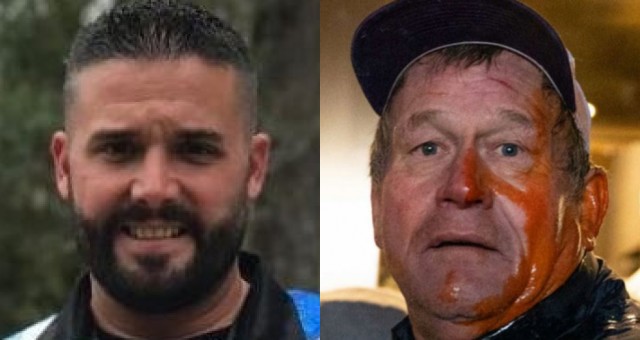 Let me be clear that we do not condone violence and we are simply reporting the news.
Yes we have an opinion on how equal justice is not taking place when you compare the BLM/ANTIFA riots and the event at the Capitol in D.C.
We also feel strongly that Trump supporters are being treated unfairly and hopefully this whole charade can come to an end soon.
Anyways, 2 more people have pleaded guilty to crimes during the J6 protest.
The first article is about an 'Oath Keeper' who is looking at 20- 40 years in prison for his actions and has reportedly agreed to 'cooperate' with the DOJ.
That sounds to me like he will be what basically amounts to snitching and/or backing up the crap that the government is coming up with.
Who knows? It's a freaking mess and no matter what, you can't dispute the fact that these J6 POLITICAL PRISONERS have been denied their CONSTITUTIONAL RIGHTS and have been treated like animals.
Not to mention that there is rock solid proof that the government in many ways played a major role in the protest but enough about that.
Here's the latest info.
#1
Leader of Alabama Chapter of Oath Keepers Pleads Guilty to Seditious Conspiracy and Obstruction of Congress for Efforts to Stop Transfer of Power Following 2020 Presidential Election
Defendant Participated in Plot to Use Force to Oppose Execution of U.S. Laws, Including the Attack on the Capitol During the Certification Proceeding
            WASHINGTON – A regional leader of the Oath Keepers pleaded guilty today to seditious conspiracy and obstruction of an official proceeding for his actions before, during and after the breach of the U.S. Capitol on Jan. 6, 2021. His and others' actions disrupted a joint session of the U.S. Congress convened to ascertain and count the electoral votes related to the presidential election
Joshua James, 34, of Arab, Alabama, pleaded guilty to seditious conspiracy in connection with the Capitol breach. As part of the plea agreement, James has agreed to cooperate with the government's ongoing investigation.
As described in court documents, James is the regional leader in charge of the Alabama chapter of the Oath Keepers. The Oath Keepers are a large but loosely organized collection of individuals, some of whom are associated with militias. Though the Oath Keepers will accept anyone as members, they explicitly focus on recruiting current and former military, law enforcement, and first-responder personnel.
In his guilty plea, James, a military veteran, admitted that, from November 2020 through January 2021, he conspired with other Oath Keeper members and affiliates to use force to prevent, hinder and delay the execution of the laws of the United States governing the transfer of presidential power. He used encrypted and private communications, equipped himself with a variety of weapons, donned combat and tactical gear, and was prepared to answer a call to take up arms.
According to court documents, on Jan. 4, 2021, James and others traveled to the Washington, D.C. metropolitan area. He brought a semi-automatic handgun and stored multiple firearms at a Virginia hotel. On Jan. 6, after learning the Capitol had been breached, James and others traveled to the Capitol on golf carts, driving around multiple barricades, including marked law enforcement vehicles. James was wearing a backpack, a combat shirt, tactical gloves, boots, a paracord attachment, and an Oath Keepers hat and patches. He and others unlawfully entered the Capitol together through the East Rotunda doors. Inside the Rotunda, James assaulted a Metropolitan Police Department officer by grabbing the officer's vest and pulling him towards the mob. While pulling the officer, James yelled, "Get out of my Capitol! This is not yours! This is my Capitol!" James was expelled by law enforcement, including at least one officer who aimed chemical spray at him.
On the evening of Jan. 6, 2021, James and others heard that law enforcement was searching for them and immediately departed the Washington, D.C. metropolitan area. Soon after, James traveled to Texas to join with the leader of the Oath Keepers and other co-conspirators. There, he helped co-conspirators amass thousands of dollars' worth of firearms, ammunition, and firearms equipment – some of which he later stored in storage sheds in Alabama – and prepared to distribute the equipment to others and to engage in violence in the event of a civil war.
James was arrested on March 9, 2021. He was among 11 defendants indicted on Jan. 12, 2022, in the District of Columbia on seditious conspiracy and other charges; the others have pleaded not guilty. James faces up to 20 years in prison for seditious conspiracy and up to 20 years for obstruction of an official proceeding, along with potential financial penalties. No sentencing date was set. A federal district court judge will determine any sentence after considering the U.S. Sentencing Guidelines and other statutory factors.
The case is being prosecuted by the U.S. Attorney's Office for the District of Columbia and the Department of Justice National Security Division's Counterterrorism Section. Valuable assistance was provided by the U.S. Attorney's Office for the Northern District of Alabama.
The case is being investigated by the FBI's Washington and Birmingham Field Offices.
#2
Idaho Man Sentenced to 51 Months in Prison For Assaulting Law Enforcement and Obstruction in Capitol Breach
Defendant Used a Plastic Pipe to Strike an Officer, Participated in Other Attacks on Jan. 6
WASHINGTON – Duke Edward Wilson, 67, of Nampa, Idaho, was sentenced today to 51 months in prison for assaulting a law enforcement officer and other actions during the breach of the U.S. Capitol on Jan. 6, 2021, which disrupted a joint session of the U.S. Congress that was in the process of ascertaining and counting the electoral votes for the presidential election.
According to court documents, Wilson went to the U.S. Capitol on Jan. 6 wearing a dark-colored jacket with a long-sleeved blue shirt underneath and a purple and white baseball hat that read, "CNN," with the words, "FAKE NEWS" underneath it. He entered the Lower West Terrace tunnel area of the U.S Capitol Building shortly before 3 p.m. At that time, the crowd was pushing against law enforcement officers in efforts to enter the building, while spraying liquid irritants toward the officers as they pushed on the officers' shields.
Wilson made his way to the front line of the crowd, and as officers tried to close a set of double doors, he grabbed for them and tried to pull the door open. He then raised what appeared to be a tablet device to deflect the liquid irritant officers were spraying at the crowd. Wilson then picked up a several feet long white cylindrical object, believed to be a thin polyvinyl chloride (PVC) pipe, and indiscriminately used it to strike at the officers, hitting one. Wilson then raised the object above his head and threw it into the line of officers. As the confrontation continued, he also assisted others in attempting to pull a shield away from an officer. During a struggle over the shield, he pushed an officer to the ground and then joined others in pushing another officer.
Wilson was arrested on April 15, 2021. He pleaded guilty in the District of Columbia on Sept. 7, 2021, to obstruction of an official proceeding and assaulting, resisting, or impeding certain officers. In addition to the prison term, Judge Royce C. Lamberth ordered him to pay $2,000 in restitution. He also must serve three years of supervised release following his prison term.
Wilson, a 68-year-old logger from the small city of Nampa, told Judge Lamberth that he didn't remember many of his actions.
The case was prosecuted by the U.S. Attorney's Office for the District of Columbia and the Department of Justice National Security Division's Counterterrorism Section. Valuable assistance was provided by the U.S. Attorney's Office for the District of Idaho.
This case was investigated by the FBI's Washington Field Office, which identifies Wilson as #87 in its seeking information photos, with assistance from the U.S. Capitol Police, Metropolitan Police Department (MPD), and the FBI's Salt Lake City Field Office.
In the 13 months since Jan. 6, more than 750 individuals have been arrested in nearly all 50 states for crimes related to the breach of the U.S. Capitol, including over 235 individuals charged with assaulting or impeding law enforcement. The investigation remains ongoing.
###
DOJ
Meanwhile the BLM and ANTIFA rioters who burned down police stations, federal buildings, churches and cities as well as were extremely violent got slaps on the wrist.
Where's the justice?
It doesn't take a rocket scientist to see how the left gets a pass from the DOJ while the J6 protesters are being targeted with a vengeance.
In my opinion this is corrupt as all hell but that's how the left rolls.
We have to take our country back from these COMMUNISTS.
H/T: AMERICAS FREEDOM FIGHTERS