BREAKING: 14 States TEAM UP To Take Down Biden Admin- FBI Is About To Go DOWN!
14 states have filed suit against the Biden administration seeking enforcement of a Freedom of Information Act (FOIA) request for any information regarding reported surveillance conducted by the FBI on parents who speak out against CRT and other insane leftist policies/indoctrinations during school board meetings.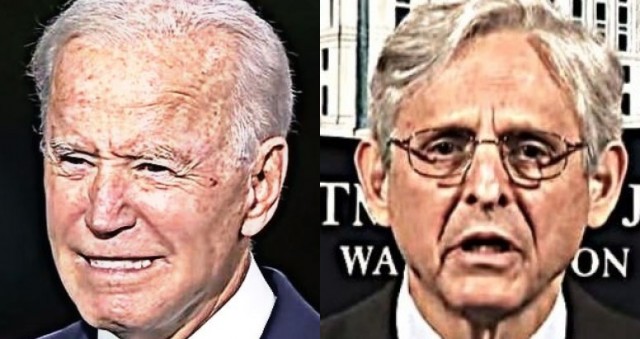 More states are expected to join.
Understand that the Biden admin are focusing on parents who are concerned about their children being brainwashed by leftwing lunatics.
"The suit comes on the heels of an appeal to the Justice Department last fall by the National School Boards Association to treat parents who express concerns about curriculum and other local school policies as domestic terrorists," Conservative Brief reported Sunday, adding:
The suit also comes after the Biden administration refused to respond to FOIA requests filed by Indiana Attorney General Todd Rokita, a Republican, and other states attempting to obtain communications among federal officials ahead of the October 2021 "threats" memo.
Now, Rokita is taking the lead in the FOIA lawsuit but he is joined by attorneys general in Arkansas, Arizona, Georgia, Kansas, Kentucky, Louisiana, Missouri, Montana, Ohio, Oklahoma, South Carolina, Texas, and Utah, The Daily Wire reported.
"We just want the facts," said Rokita. "Rather than cooperate, the Biden administration has sought to conceal and downplay its culpability. What are they hiding? Why won't they come clean? Hoosiers and all Americans deserve to know."
According to reports, the suit names U.S. Attorney General Merrick Garland and Education Secretary Miguel Cardona, USA Features reports.
"NSBA's letter was followed by Garland directing the FBI in a memo to lead a task force addressing threats to school officials and report the threats. A spokesperson for the White House then claimed it was not involved in the DOJ memo and that the department 'chose to take this approach on their own,'" The Daily Wire noted.
Garland testified to Congress in October that he was "sure that the communication from the National Association of School Boards was discussed between the White House and the Justice Department and that's perfectly appropriate," the lawsuit notes.
Shortly after Garland issued the memo, GOP attorneys general demanded that it be rescinded and the government "cease any further actions designed to intimidate parents from expressing their opinions on the education of their children," the suit notes, adding the AGs also requested the government "respect their First Amendment rights to freedom of speech and to raise their children."
Fox News reported:
An Oct. 20 internal email from the FBI's criminal and counterterrorism divisions, released Tuesday by House Republicans, instructed agents to apply the threat tag "EDUOFFICIALS" to all investigations and assessments of threats directed specifically at education officials.
The email also directs FBI agents to consider whether the criminal activity being investigated is in violation of federal law and what the potential "motivation" is behind it.
"The purpose of the threat tag is to help scope this threat on a national level, and provide an opportunity for comprehensive analysis of the threat picture for effective engagement with law enforcement partners at all levels," the email stated.
The email also directs FBI agents to consider whether the criminal activity being investigated is in violation of federal law and what the potential "motivation" is behind it.
The FBI issued a statement defending its conduct, saying, "A tag is merely a statistical tool to track information for review and reporting. The creation of a threat tag in no way changes the long-standing requirements for opening an investigation, nor does it represent a shift in how the FBI prioritizes threats. The FBI has used tags to track everything from drug trafficking to human trafficking."
GOP lawmakers are calling on Garland to return to Capitol Hill. alleging his October 21 testimony of no longer passing muster.
"I can't imagine in which the Patriot Act would be used in the circumstances of parents complaining about their children nor can I imagine a circumstance where they would be labeled as domestic terrorism," he told the House Judiciary Committee.
Elana Fishbein, president of the group No Left Turn in Education, sent a letter to Garland in January urging him to investigate the "crisis" in schools related to adults sexualizing children. Fishbein cited numerous examples throughout the country.
"We are trying to push for a Senate and House hearing on this issue," Fishbein told The Daily Wire.
Asra Nomani, another parent activist and journalist who is vice president for strategy and investigations at Parents Defending Education, testified before the House Judiciary Committee this week. Wearing a shirt with the words "I am a Mom, not a domestic terrorist," Nomani discussed Critical Race Theory in schools and Asian discrimination.
"No child in America should ever feel shame. No child should ever feel discrimination, and it is unconscionable that we do not recognize that," said Nomani in the hearing. "We must protect the integrity of humanity."
Look, the Biden administration is packed with GARBAGE.
They are freaking idiots.
We have to get these COMMUNISTS out and put in real America loving patriots in these important positions.
The left are sick people who haven't got a clue on what's good for America- that's why they have been installed in these positions.
TO DESTROY AMERICA AS WE KNOW IT!
Unbelievable…
TTOA ARE STAUNCH SUPPORTERS OF LAW ENFORCEMENT, BORDER PATROL, ICE, FIRST RESPONDERS, OUR MILITARY AND ALL THE BRAVE MEN AND WOMEN WHO HAVE DEDICATED THEIR LIVES TO KEEPING AMERICA SAFE.
H/T: AMERICAS FREEDOM FIGHTERS