Conservative ROCKSTAR Drops MAJOR Biden Impeachment BOMBSHELL
I'll start by saying that TTOA are huge fans of GOP Rep. Jim Jordan of Ohio.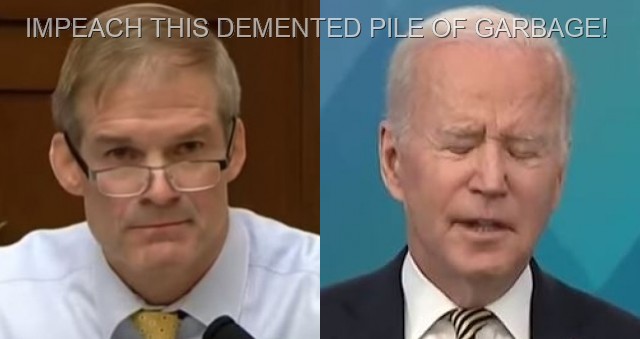 He's smart and doesn't screw around with double talk and B.S.
Jordan tells it like it is and the country would be in a much better place if we had 200 more Conservatives like him.
The bottom line is that it has to be extremely frustrating to be right and have solutions but since we are outnumbered by leftwing lunatics NOTHING positive can get done.
I know the feeling.
I can write my ass off and I do 12 hours a day-7 days a week and I can only hope that I am making a difference.
IMPEACHJOEBIDEN
Anyways, Adam Wilson writing for our good friends at 100 Percent FED Up reports that Rep. Jim Jordan (R-Oh.) said that impeaching President Biden is 'definitely a discussion we have to have' if Republicans win back the House in the 2022 midterms.
We agree! Impeach that senile pile of garbage before he completely destroys America.
Yeah, that means that Kamala Harris would be president but she can't be any worse than Biden plus we'll freaking impeach her ass too! 
Okay back to the report.
Jordan, who has been one of President Trump's most ardent supporters, is likely to become the House Judiciary Committee Chairman if Republicans retake the House.
During a Republican meeting in Florida, the Representative said that if Republicans were to attempt to impeach Biden, they would need unity across the party.
Political analysts on both sides of the aisle expect a 'red wave' this year as Biden's approval ratings continue to hover at or below 40% and there is a looming inflation crisis and war in Ukraine.
The Post Millennial reports–
"Republican leadership at a recent gathering has brought up exploring possible plans for impeaching President Joe Biden if the right-wing takes back control of Congress after November's upcoming midterm elections
Recent polling of how voters are feeling about the Biden administration so far this year indicates a strong likelihood of a "red wave." The Washington Times got the scoop on this story while attending a Republican meeting held in Florida. "I think that's definitely a discussion we have to have," Rep. Jim Jordan (R-OH) told the DC-based conservative outlet.
It's explained that Jordan is expected to have control over the House Judiciary Committee if Republicans sweep this year's midterm elections. That's the panel in charge of coordinating the impeachment process.
While places like The New York Times have attempted to keep eyes on former President Donald Trump's role, the results of a Pew Research survey posted on Thursday indicate 71 percent of Republican voters are ready to vote in the 2022 midterms for a Congress that is "against Biden."
Jordan reiterated the need for party unity in the House of Representatives to successfully impeach Biden. "The conference has to decide. You have to have complete buy-in from the entire conference and the leadership of our conference."
#ΜΟΛΩΝ ΛΑΒΕ
H/T: AMERICAS FREEDOM FIGHTERS